I have a feeling that this will land as a sales lead but I need someone to hand this to the general manager for this
dealership or to the service manager. Thank you in advance. So often management is only made aware when there's a negative
experience and consumers want to voice their negative comments/complains. But this email is to highlight the exceptional
customer s
ervice that I received this past Friday, 1/22/2016 at your dealership. My children attends WVU and so I traveled to
Morgantown because my daughter's Nissan Murano had major issues with her tires. I had her dropped it off after speaking to
Tonya in service. Tonya patiently answered my questions and numerous phone calls (since the roads delayed my time of arrival
in Mtown). She was knowledgeable, courteous and amazingly patient. But the story doesn't stop there, the real reason why I'm
taking time to highlight Tonya as an exemplary employee and representative for John Howard's Nissan dealership is what she
did for me with my other daughter's vehicle, a Mazda 3. Shortly after picking up the Murano on Friday morning, I took the Mazda
to get tires, the vendor at the store broke off 3 wheel studs and therefore it wasn't driveable. Being away from home, I tried
calling the closest Mazda dealership and explain the situation. I was told that they would need to ordFor Fer the parts and given the impending snowstorm, it won't be until Tuesday/Wed that they could get this fix. I took a leap of faith and called Tonya. Not only
was she willing to hear my predicament, she went above and beyond to get me answers and solutions. Even if she couldn't fix it,
I felt at that moment she was trying so hard. At the end not only was the vehicle towed to your dealership, Tonya had it fixed and
will finish up the job later in the week. I am so grateful for her diligence and my daughters have been instructed by me to
schedule any services needed for their cars with Tonya for as long as they are in Morgantown. Thank you Tonya for the superb
customer service you provided to us. Lastly can I please get an email confirming that this made it to the management team.
All the best,
Cathy Ho
Jim, thank you very much.  You were very kind and thorough.  You were the only one (during all my new car purchases) who went through all the features of my new car in addition to the owner's manual.  It was a pleasant buying experience. 

I love my new car!

Catherine C.

I've been looking towards getting a WRX for quite some time. One online chat and email from Jim Churilla, and I made my way to see them the next day. The one I had been looking at online most of the winter was gone (missed it by 2 days) but it was hard to resist the one I test drove and took it home that day. I appreciated the speed in which the deal was done. I was greeted by at least 6 people before Jim got over to see me. Overall, a great business atmosphere in my opinion. Coming from Fairmont, I was happy I decided to go north to Morgantown, rather than south to Bridgeport. Hopefully, I never have to see their service department other than regular service intervals, but if they are anything like their sales department, I'm sure i'll have no complaints.
Rusty from Fairmont, WV | March 12, 2015
James, 
I just want to commend you, Scott, and  Ron for the awesome service we received on Saturday, March 7, when purchasing a new Subaru.  The sale went so smoothly, and I am a true Subaru "convert".  I didn't feel like I was given the "run around".  All of you guys are gentlemen and very accommodating.  Kevin, my son who was with me, was very impressed with the entire process.  We never dreamed that we would walk out of there with a new car that same evening.
Scott worked very hard to get me in the ballpark with the payment I could afford without arm twisting!!  He worked with us very well.
Ron was so kind as to meet Kevin here in Bridgeport on his way to work on Monday to pick up the title for my trade in.  That was a huge help.
Kudos to all of you and to John Howard Motors.  I look forward to working with you in the future.
Sandy Smith, Happy new Subaru owner!!!
On behalf of my wife Jaime and I, we both wanted to again thank you for the incredible service that your entire dealership team provided us on Thursday, 8 January 2015: when we adopted our 2014 Subaru Crosstrek XV (at least, for 39 months). 

I've bought several cars over the years - always from domestic manufacturers - and I've never had the quality of all-around service that John Howard Subaru gave me, from the first step onto a (frozen, one-degree) new car inventory lot to the last signature in the business office as we took the keys to our new ride. Every single person we met was both courteous and helpful, and the end result - at least for us - was an incredibly simple and pressure-free purchase/lease experience. 

A solid car at a fair price, from a dealership staff more interested in personal relationships than slick sales techniques - we are 101% satisfied, and we're in all likelihood converted to both Subaru and to John Howard Subaru for the near future. 
Thanks again, and please feel free to share some or all of this testimonial with your present and future clients. Attached is a photo of the Crosstrek XV doing what she does best: mastering the snow. Cheers!
Nick B.
"Hey Chris, just wanted to say again how much I love my new Forester! You and Roy really led me to the perfect one! My first automatic in about 30 years and it's great although I do still reach down to shift sometimes. lol It rides soooo smooth! I have yet to drive it in snow but I guess time will tell, I've always been pretty good driving in snow anyway. Thanks again!" -
Elizabeth B.
From the first day we were greeted by you on the car lot until the day we drove our new Subaru off the lot you were and continue to be professional, knowledgeable, helpful, sincere, thoughtful, courteous, kind, and fun.  We truly appreciate your efforts to allow us to look until our car found us.  We "can no other answer make but thanks, and thanks, and ever thanks"- Shakespeare

Dale & Carolyn M.


Easiest car buying experience ever. Had a really hard time finding a manual transmission 5 door impreza, they got one in and we put a deposit down on the phone the night before so they would hold the car before ever putting it on the sales lot.  Roy Bourne had us fill out the financing application online the night before also. When we showed up the next morning he had the car clean, warm, and full of gas parked right in front of the dealer. We went inside and signed the papers that they already had prepared for us, and we were done. Showed up at 9AM and were eating breakfast in iHop by 10:30. Highly recommended.

Derek PA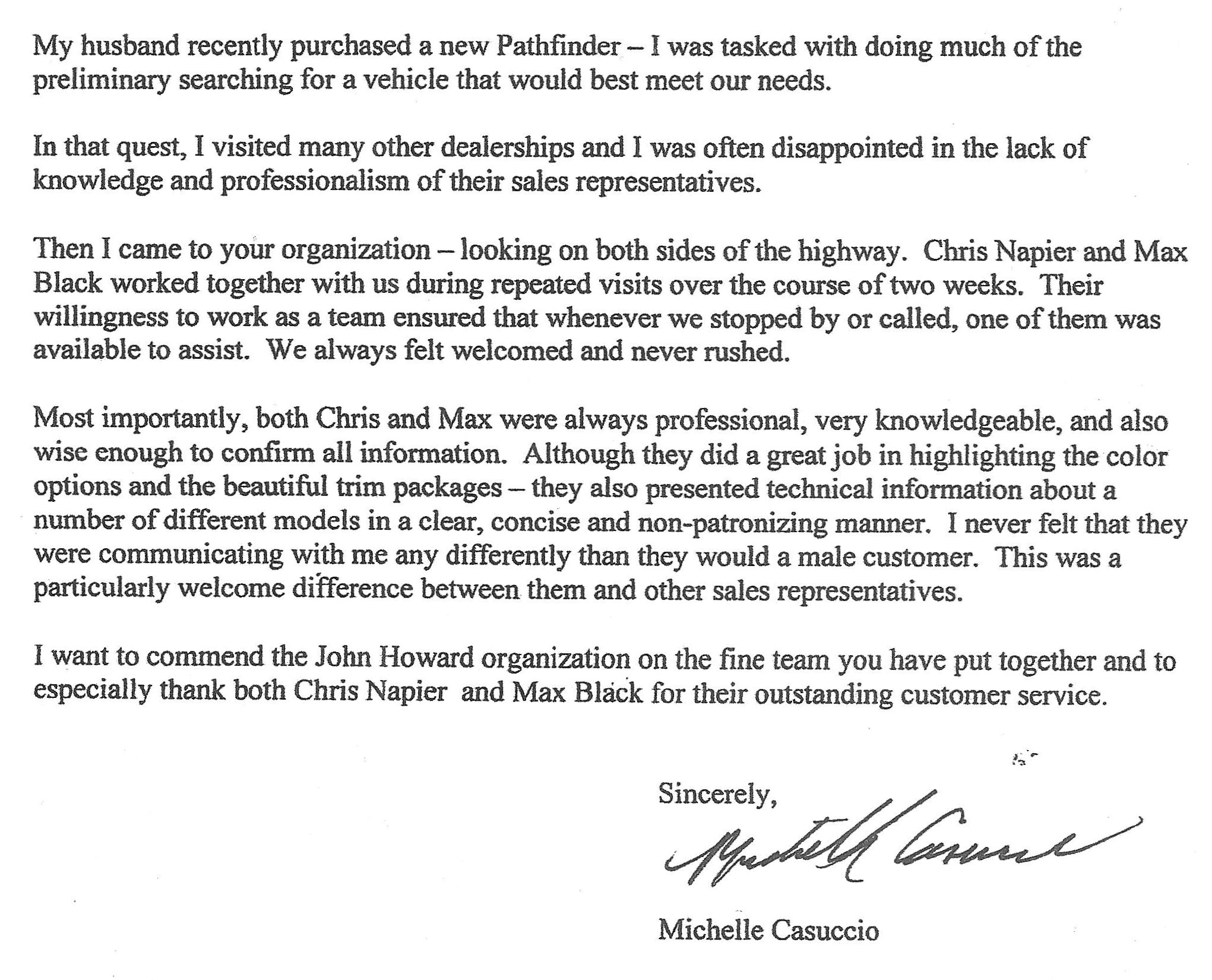 Chris, Thank you so much for all you did to help us get the car.  You really seemed like you cared about how much we could spend and you tried to get the company to work with us and get the car we wanted.  We really enjoy the car.
Matt & Becky R.


This letter is long overdue in praise of sales person Chris Napier.  Six months ago we purchased a 2014 Forester from Chris.  When we visited the showroom, we expected the stereotypical car sales person-cocky, arrogant, pushy, lack of integrity.  We found just the opposite in Chris.  He was delightful to work with.  He listened to our needs, he was extremely knowledgeable about the Forester, made sure we understood the vehicle's features, and road demonstrated some of the more important features.  We could not have been more impressed.  Chris followed up on our purchase several weeks later to ensure that we were satisfied and had no problems.  We have never had a new car experience like this one and we wanted you to know that you have a very valuable employee in Chris.

Gail & David D.


Thank you for helping me get into a new Subaru, allowing me to save on my fuel costs. The vehicle you sold to me is much nicer than the models I was searching for online, of course it was also more money, but you were still able to help me accomplish my goal. I can't thank you and John Howard enough. The other Subaru dealer that is much closer to me would not have taken the time to work so hard to help a customer. I not only know this from personal experience, but also have a co-worker that experienced the same problems as I did with the other Subaru dealer. John Howard is the only dealer I will work with for all of my future vehicle needs. I will be sending a letter to the management of John Howard explaining how much I appreciate the kindness and genuine concern you gave to my request, not to mention your determination and dedication to staying after hours to get the sale completed, allowing me to drive home that night in my new Forester. That truly caught me by surprise. My intentions were to stop by to meet you in person and simply provide the required information requested to qualify for the Military Appreciation discount and set up an appointment for Saturday. Again I cannot thank you enough for providing me with such a great experience purchasing a new vehicle, in fact the best experience I have ever had purchasing a new vehicle, which again is why I will not consider any other dealer for my future vehicle purchases. I will be up to see you Friday afternoon probably around 1:30 to bring you the spare key for the Silverado and hopefully have a technician fix the powerlift gate for me. I also received a voicemail from Karen and apparently she needs me to sign another paper so I will take care of that as well. Thank you very much!!
R. Osborne Jr.

I would like to thank Mike in the parts department for going out of his way to assist me in a difficult parts problem...Thanks again to John Howards staff for your service.    J. Williams
A big thanks to Rod and Scott for helping to get me into my new Jeep! Had a great experience yesterday throughout the entire purchasing process and would recommend you guys to anyone!
J. Shumaker

I just wanted to express my gratitude to Matt in the Service Department and the excellent mechanics that repaired my Mom's car. She's 83 and relies on her Legacy. Matt was very helpful in getting the car repaired as well as making her feel very comfortable with the process. The entire process and people were great. I just wanted to make sure that Matt and the other Service folks were recognized for their outstanding customer service and work.
T. Nebel

I cannot say enough good things about Marissa, who guided us through the purchase of our first Subaru.  I had been online, building an Outback, and I decided to take the plunge and work with an internet consultant to discuss the vehicles and to look at them in person.  We shared several emails before I decided to drive across town to look at the vehicles.
We hadn't planned to buy a car that night, but Marissa made us see the advantages of owning an Outback and we were literally sold. 
It was very late before all the paperwork was done, but Marissa didn't seem to mind.  She even invited me back to get some more pointers on the controls and settings after we had driven it a few times.
I have told everyone who sees and admires our new car to go to John Howard Motors to look at one for themselves. 
Here's hoping that our years with our new 'Roo will be as enjoyable as this first week has been.
Reneé S.

Took my Nissan Murano in for a tire rotation, and afterwards noticed that the steering wheel vibrated. I called and they were able to set up an appointment in no time and found out that the front tires were unbalanced, and then balanced them for free even though it wasn't their fault. Very honest service department, which is hard to find these days at car places.
"Happy Customer"